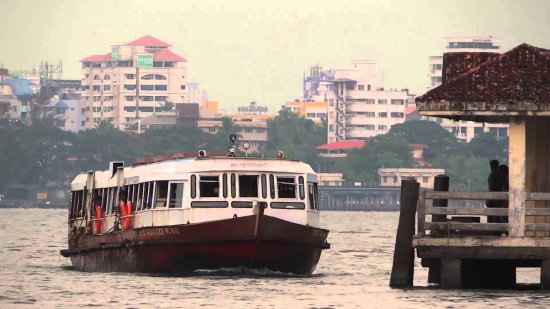 To reach Broadway and Marine Drive, we will take the public ferry from Fort Kochi. There are nice views of the harbour on the ferry ride.
Tour Coverage: We will start the tour at Fort Kochi, near the ferry terminal. We will join local commuters as they take the ferry to Ernakulam. It is a 20-minute ride, with great views of the harbour. After disembarking at Ernakulam Jetty, we will walk along the Marine Drive promenade, until we reach the bazaar area. We will explore several winding streets, seeing fruit and vegetable shops, spice shops, a bustling fish market, cloth merchants, hardware stores, footwear shops, grains and oils, etc. Many of these shops have long established reputations, with third or fourth generation family owners. You can learn about the way these businesses work. The spice shops, fish market and vegetable markets are great for learning about Kerala cuisine.
The walk ends at the CSI Immanuel Church, the oldest Protestant church in Ernakulam. This is a well-known landmark, and from here we can help you find local transport (autorickshaws) back to your hotel. The ferry is also nearby, if you want to try that again.
Duration: 3-4 hours | Starting Point: Entrance to Brunton Boatyard | Ending Point: CSI Immanuel Church
Start Time: 9:00 a.m. or 4:00 p.m., all days except Sundays
Includes: Knowledgeable guide, Ferry Tickets, Personalised Walk and all taxes | Excludes: Transport, Meals, Tips and Entrances.